Have you noticed that our lives have changed drastically? Are online banking, food delivery, and e-commerce gradually gone from something new to something you are familiar with? Thanks to the Internet, with just a smartphone or a laptop, you can now satisfy your daily needs handily without leaving your home. As a matter of fact, behind the changing lifestyle is the transformation in the business model. The rapid development of the Internet has brought plenty of opportunities and broad development space for enterprises. But unlike the sophisticated industry giants, SMEs are actually struggling to survive from it.
In this context, to help SMEs find their way to stand out, Biztory is here to encourage them to use the Internet, especially in digitizing their financial operations. As a cloud accounting software, we figure out an effective and user-friendly way to let SMEs do their accounting online while monitoring their business in real-time. At the same time, as one of the millions of SMEs, we are also actively applying the Internet to explore opportunities. Let's check how we do!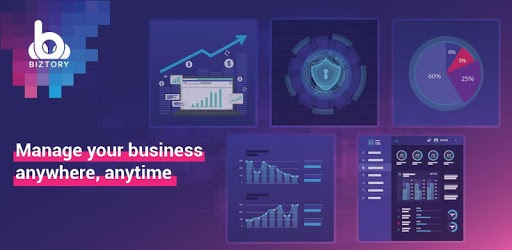 What makes it difficult for SMEs applying the Internet?
1. Lack of talent
To use the Internet to run your business, you need to hire talent who can both have a good grasp of their existing business and master using the Internet. To give an example, are you finding problems handling your daily financial processes, either by time-consuming or by wrongly entering data? Have you encountered the situation that you just can't find the specific invoice? Well, finance is one of the departments that no company can ignore and is desperate for changes brought by the Internet.
Let us help you at least ease your burden! Biztory provides an easy-to-use, cloud-based accounting software that allows companies digitalize their finances, which not only saves you from costing too much on accounting talent but also allows you to easily oversee your company's performance, allowing business owners to focus more on expanding their businesses. If you're worried that you're not tech-savvy, don't worry! We provide various support channels to ensure you have the best user experience, such as online demo, business consultants, workshops, etc.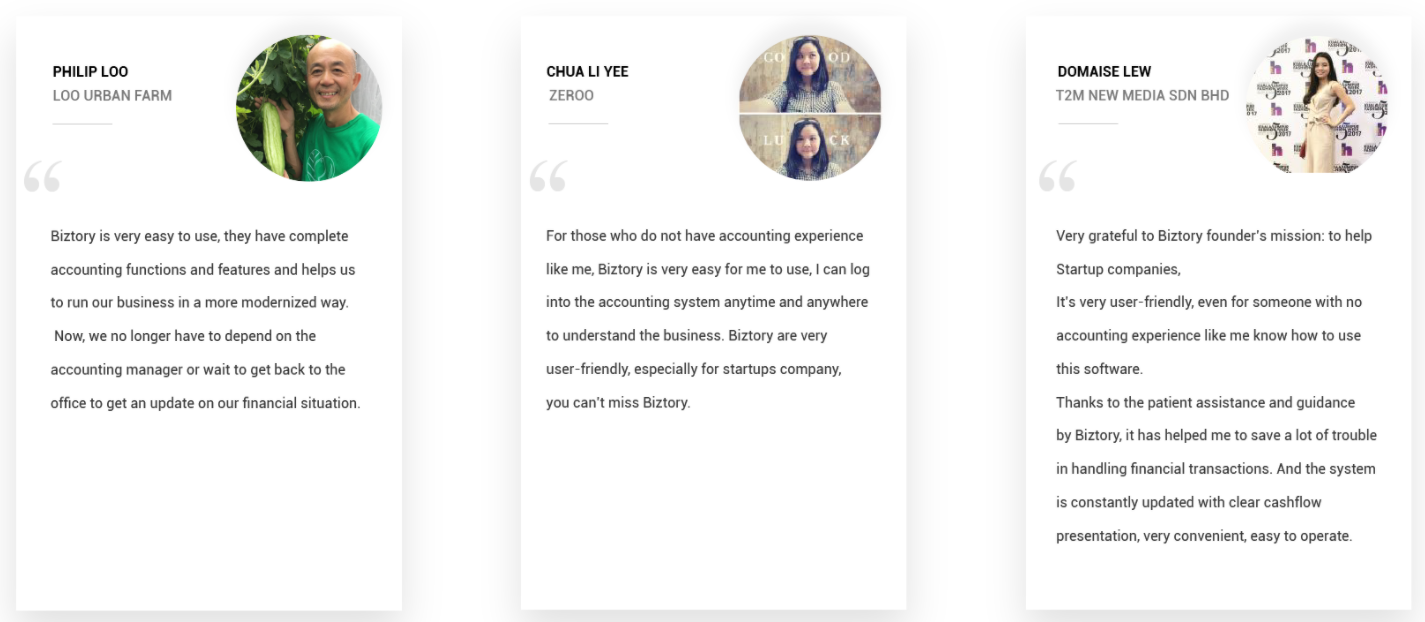 2. Weak resource integration ability
SMEs are at a disadvantage compared to large enterprises in terms of their ability to integrate resources. Launching new projects or planning cooperation with other companies is a very costly and burdensome task. But if they cannot integrate resources effectively, how can SMEs strengthen their competitiveness in this fierce market?
Ride on the journey with us! Biztory have partnered with Kakitangan, iPay88, SiteGiant, and other companies, strive to provide a one-stop solution for our customers in certain aspects. Here, you can leverage our accounting system and build an integrated system, exchange our knowledge, and help to improve each other's business growth.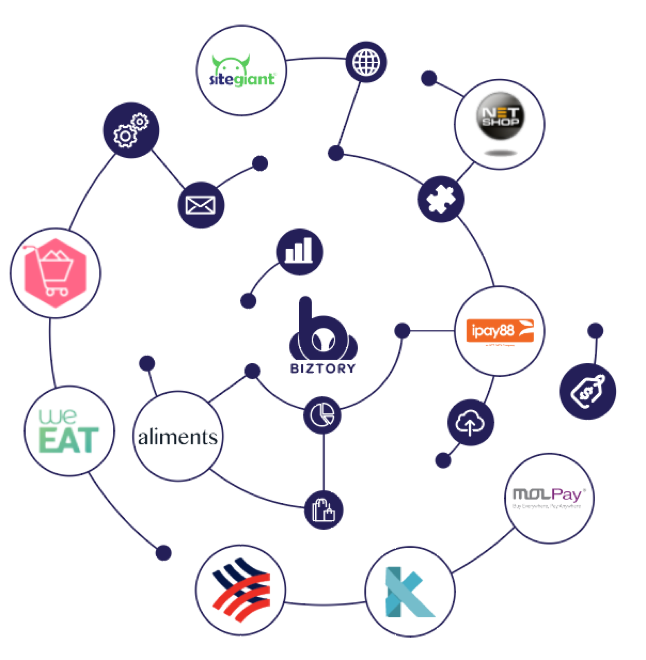 For example, Kakitangan is an online HR system with automatic payroll calculations, transactions and payslip distribution. With Biztory and Kakitangan together, you can now integrate your expenses from Kakitangan into Biztory with just one click, managing your employees while accurately recording expenses overhead.
3. Internet security problems
The use of the Internet has made information security a significant issue for business operations. SME network security is relatively vulnerable, which may lead to leakage of important information. Coupled with the fact that transferring information online is very time-consuming, some entrepreneurs may choose to delay the process of digitizing information. But considering now we have to keep our business record for at least 7 years, are you going to continue to keep all this paperwork or the massive files on the hard disk?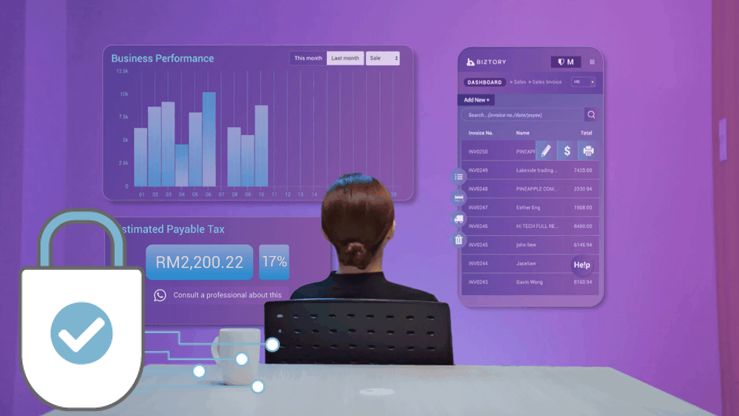 How does Biztory help you seize the opportunity?
1. Get SMEs instant access to their business
The most significant benefit of the Internet should be the ease of access to information. The Internet is just like a tremendous information platform. It does not just allow you to get the latest news, and address your information to a wide range of customers, it can also help you to record a large amount of business data in real-time, allowing you to monitor your performance timely.
Look at Biztory, we are here to provide a hassle free full-set accounting system.
2. Increase exposure to the target users
People now spend more time using social media platforms, which means you can use them to get the word out! As of January 2021, there are 28 million social media users in Malaysia, increased by 2.0 million (+7.7%) between 2020 and 2021.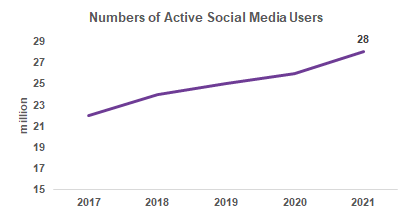 By creating a company website and social media accounts, companies can present their vision, products and services to the public, thus letting the public know about your company. Promisingly, if you share an image that matches their values, customers may be motivated to choose your product or service among the thousands of options available. Besides, you can also try to make use of search engine optimization, which can help boost your company to approach potential customers across the globe.
For our target user persona, SME entrepreneurs, we wish to attract their attention by providing them with help to improve their business capabilities. Hence, Biztory actively produces quality educational contents on YouTube, Facebook and Instagram, including topics on accounting, taxation, business operation, entrepreneurship, and others. If you want to learn more about how to run your business, then you must not miss our Bizkolah, we will regularly share different knowledge and workshop information here!
From our experience, we find online workshops and seminars a good way to reach out to customers who are interested in us. By going online, we can reduce the cost of renting a venue, and save time from setting up the venue, hence we can focus more on enriching our event content. It is also convenient for our audience since it is more flexible and they no need to arrange transportation.
3. Provide dedicated support for customers
In addition to offline service and phone advisory, the Internet provides SMEs with numerous fast and easy channels to communicate with their consumers, such as companies websites, email and social media platforms, etc. By interacting more with customers, you can build closer relationships with their customers while keeping track of the changing consumer needs.
Biztory values the importance of the connection with customers. Besides business consultants, customers can also communicate with us through Facebook messengers and our live chat. To provide you with the most refined services, we also provide online-demo sessions, which is 1v1 coaching with our business consultant on how to use our software, and three language versions of solutions, where you can find the answer for the frequently asked questions. So that we can better help users adapt to our system and we can solve their problems timely and efficiently.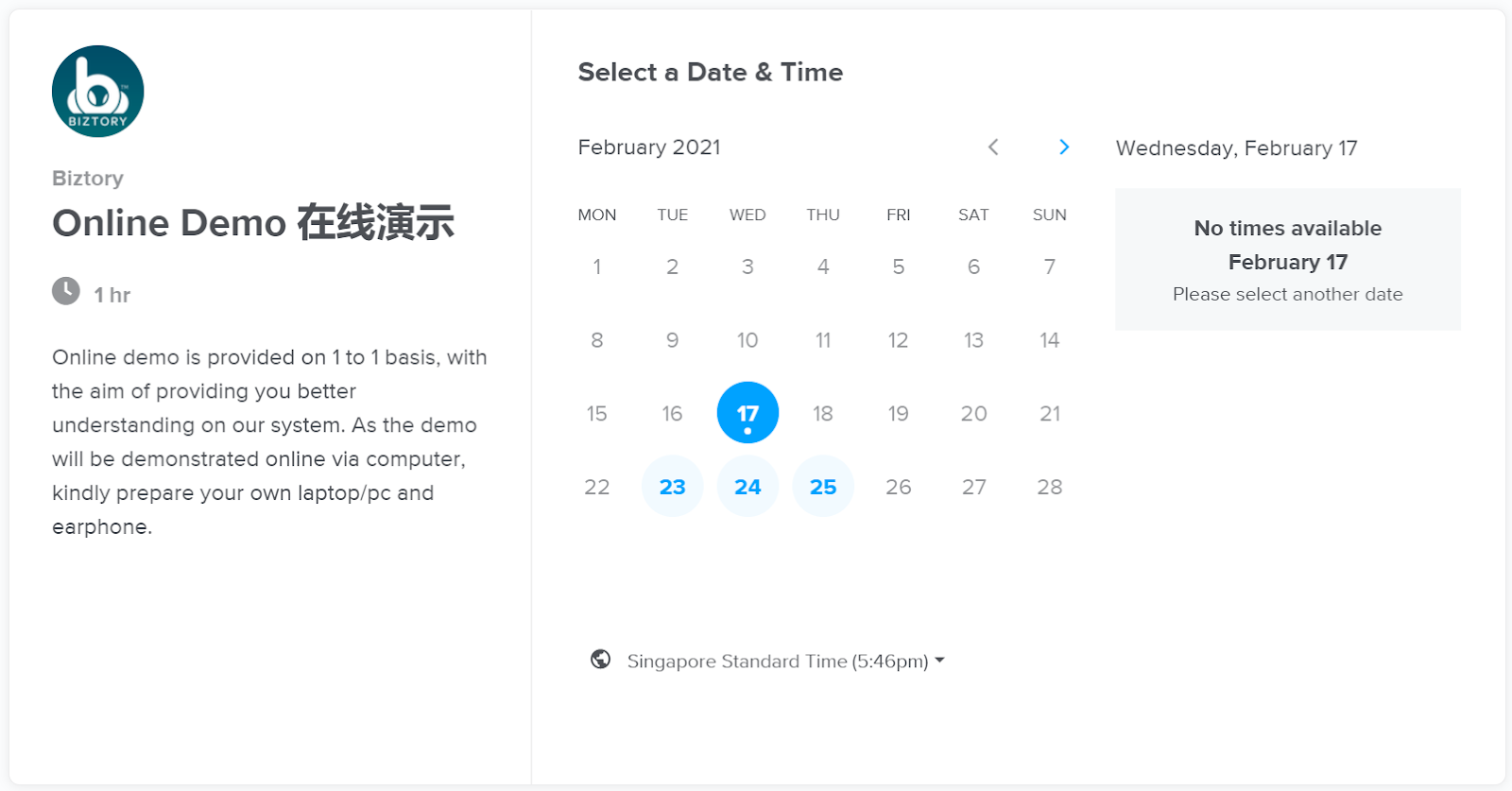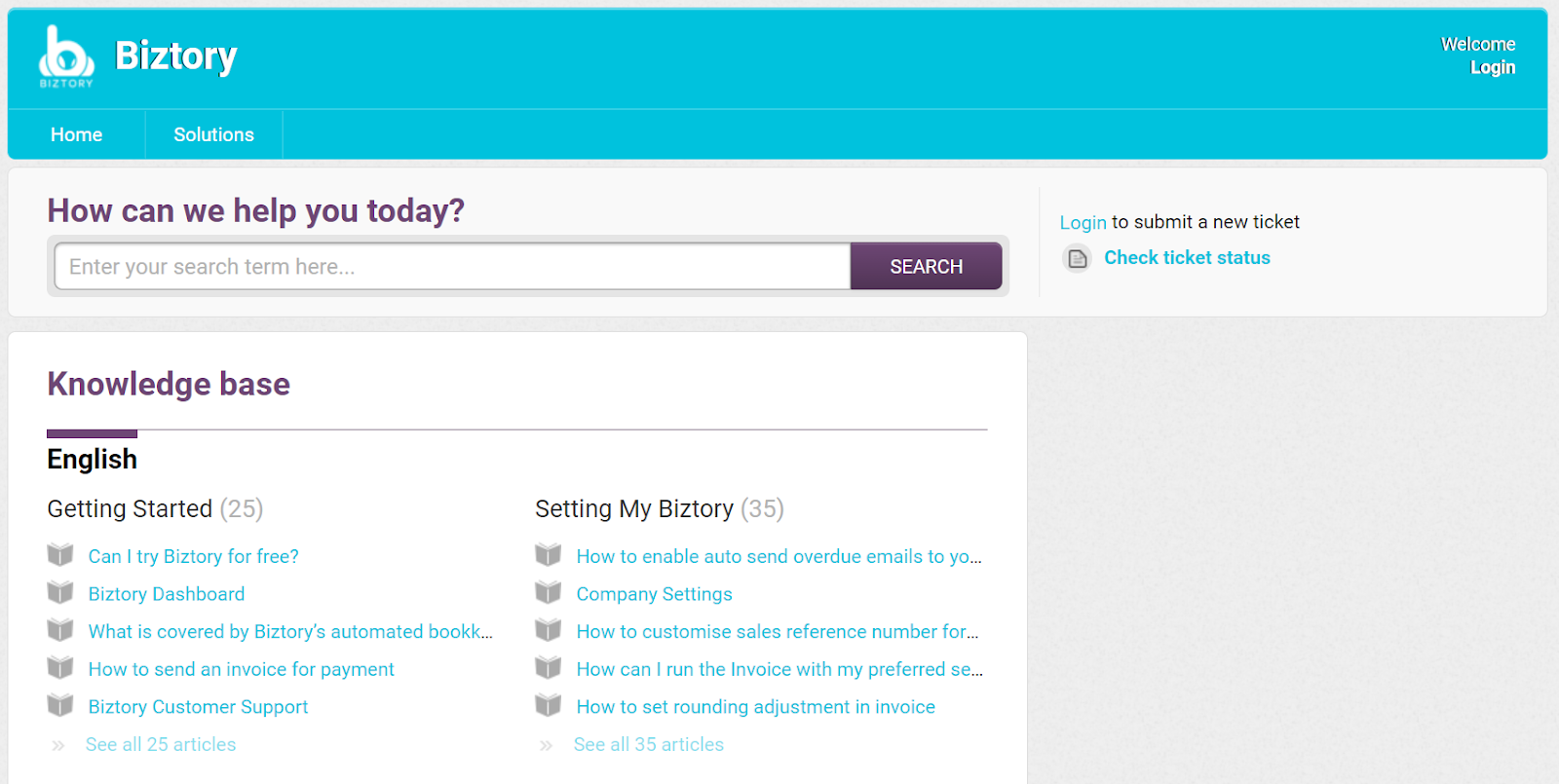 4. Provide 1-stop accounting solution for E-commerce
Another great change that the Internet brings us is E-commerce. According to datareportal, that is about 88.3% of internet users aged 16 to 64 are using shopping apps. E-commerce provides an opportunity to break free of the limitations that physical outlets impose, enabling SMEs to sell their products to the world. Instead of going to a brick-and-mortar store to get to know about a product, consumers now research products online to gather information and compare the many options available to make a decision.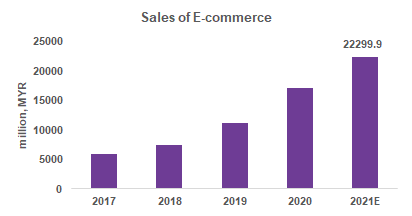 It is said that go where your customers are. Hence, it is important for retailers to operate their business online, in order to stay competitive. Even if your offline business is doing well now, don't forget that E-commerce is in the midst of a fierce market rush. You need to quickly adapt your strategy to the latest market trends, in order to stay ahead of the game.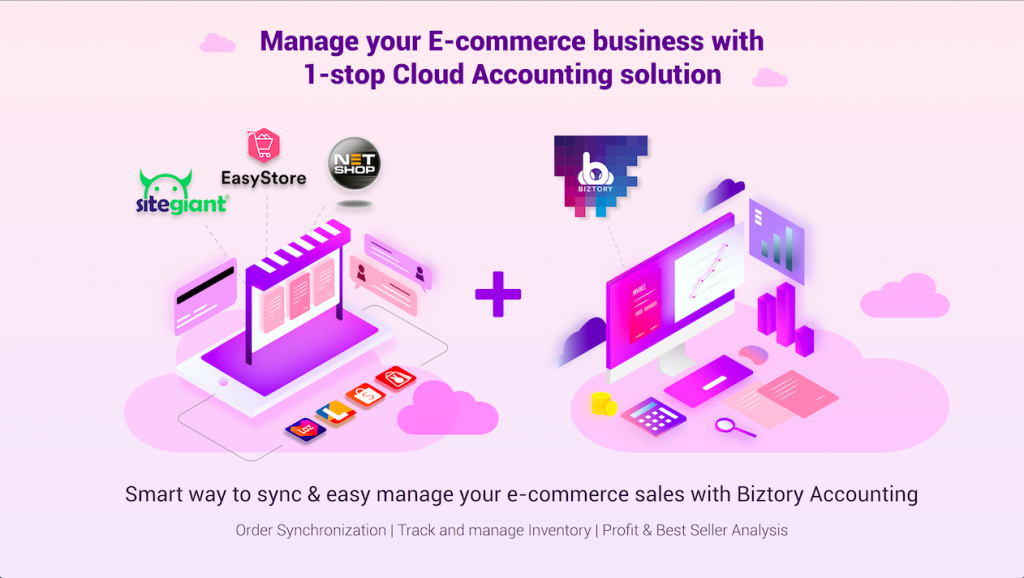 To help you better manage your E-commerce business, We connect Biztory and EasyStore in simple and fast operation, so that you can get your accounting tasks and online business automated. Here, you can manage your e-commerce sales with one-click order sync, and automatically update real-time inventory, and get instant and detailed financial information. Let's see what our customer says!
For a business to operate well, it relies on more than just its own strength. Following the changing trends in the business world to adjust your development strategies in time is one of the ways to survive in this highly competitive market. And now, being in the wave of the Internet, after recognizing the development opportunities brought by the Internet, are you able to overcome the difficulties to enjoy the benefits it brings?
When united, everything is possible. If you feel that it is difficult to sustain your business on your own in the context of the Internet, then please work with us to make your first step! As a cloud-based accounting software, we want to help you manage your finances in a more real-time and efficient way. Whether it is your sales, purchases or inventory, we offer a solution that allows you to monitor and manage it at any time. What's more, you don't have to worry about having trouble with this modern software. Our software is designed to be user-friendly and easy to use, and we will provide you with any help you need.
Better to act than to be impressed! Click here to apply for our 30-days free trial, and see if it suits you the best!