Before the end of 2020, Biztory had held Biztory new features live workshop on 18th of December starting from 3 pm. This live workshop is exclusively open to subscribers of Biztory to let them have a better understanding of Biztory new features in 2020 in order to help Biztory users to manage business accounting more systematically. Our 2 product consultants – Carol, VP of Product and Jenn, Business Consultant as the speakers provided training and explanations to all the subscribers about Biztory new features in 2020. This will help users to have a deeper understanding of how to operate this series of new features by Biztory. Besides that, this live workshop also attracted around 80 Biztory subscribers to participate. For those subscribers who are unable to attend the live workshop, don't worry, we also had recorded this whole live workshop and made it into videos. After that, we will send it to all Biztory subscribers. Let's get into the topic. Jenn will be the first to explain the new features of Biztory in 2020 for all the participants.
New Biztory Mobile Cloud Accounting Application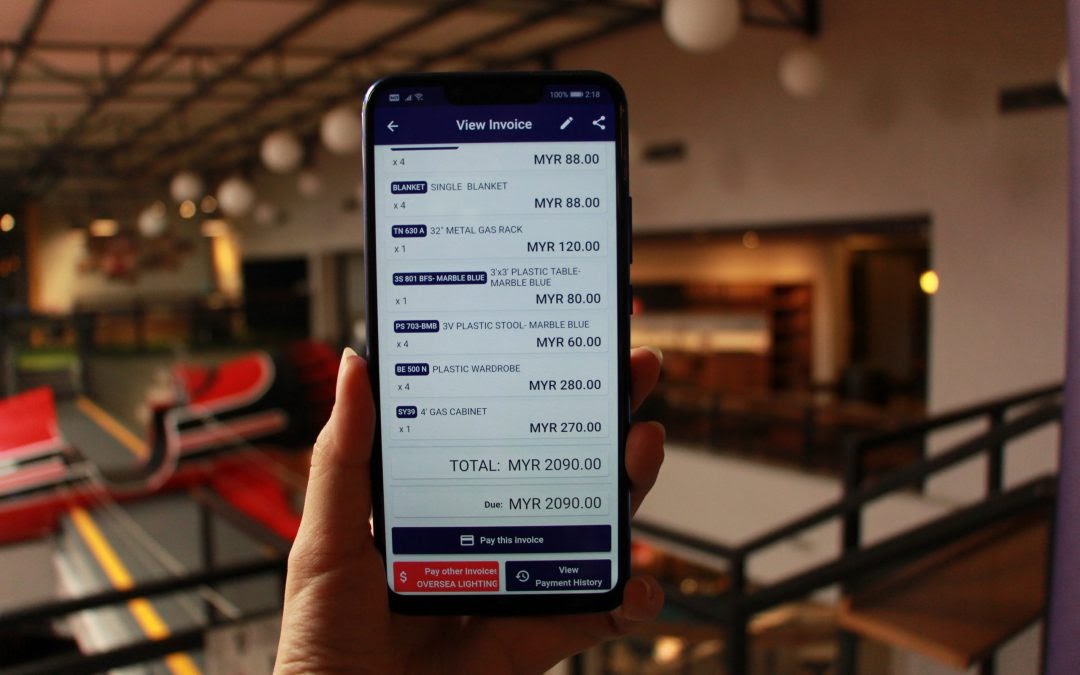 The first new feature in 2020 is a new Mobile Cloud Accounting Application launched by Biztory. This APP can help users to achieve the desire of users to create and track their business anytime and anywhere. Moreover, it had 3 main functions which are:
(1) Sales Invoice
Biztory Mobile Cloud Accounting Application allows the users to create sales invoices and record transaction payments quickly and at anywhere and anytime. Moreover, users also can through this application to send out sales invoices to customers or connect Bluetooth printers to print them out.
(2) Inventory Function
In addition, users can use this application to view and track inventory to know the quantity of the stock anytime and anywhere. Therefore, when the stock is insufficient, users can know at the first time. Then, the user can go to restock for his/her business.
(3) Customer List
Next, users are allowed to use specific information to search for the information of the customer they want on the customer list. For example, they can clearly know if the customer has paid or has not yet paid for their order by using their name or contact number to search at the customer list. This can help users be more convenient and save time.
To know more about Biztory Mobile Cloud Accounting Application, you can visit Biztory Launches Mobile Accounting App for SMEs.
Updated Method to Calculate the COGS value (Weighted Average Cost method)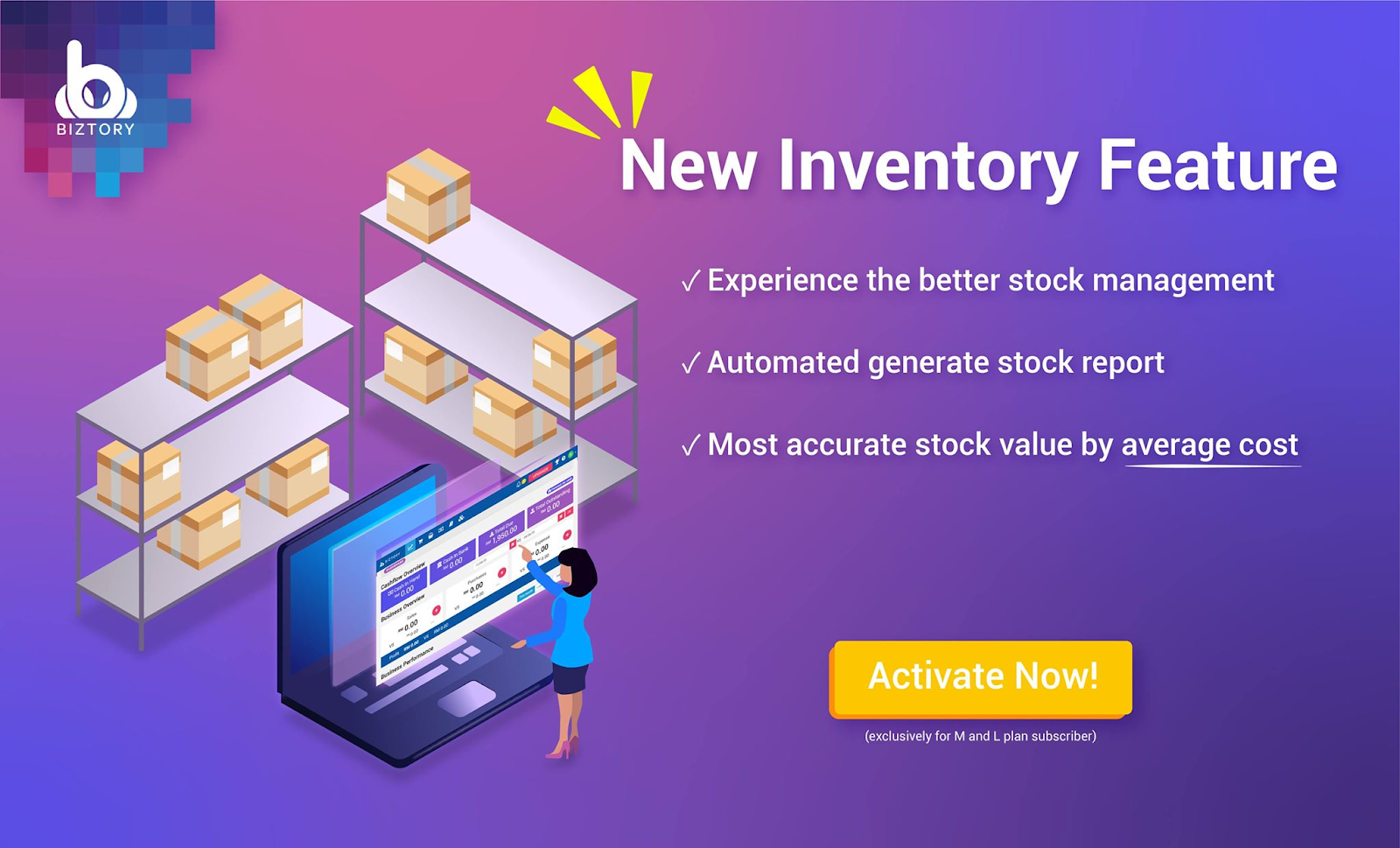 The previous method to calculate the value of goods sold (COGS) that was used by Biztory is Last Cost, and now Biztory has enhanced the calculation method of the value of (COGS) by using Weighted Average Cost (WAC) calculation. When the users are having multiple types or different prices of stocks, Last Cost calculation method in the system will directly use the value of the cost of the goods in the latest purchase invoice as the value of COGS. However, the WAC calculation method will calculate the average value between the cost of the goods so that users can record the value of the goods accurately when there are multi types of prices and goods that are difficult to allocate a specific cost to an individual unit.
Next, regarding profit and loss, the WAC calculation method will use the average value between the cost of goods as the cost unit when the purchase price of the goods is different from before. For example, the first purchase of the item is RM1, and the second purchase of the same item is RM2. The Average Cost calculation method will find the average value of goods between them as the cost unit, so no matter the users sell the item with purchase price RM1 or RM2, the cost unit will be their average unit which is RM1.50. The inventory cost will be recorded automatically into COGS (Profit and Loss) and also into closing inventory. The profits and losses of LastCost will directly adopt the inventory value of the latest purchase invoices that are entered by users. Here, you can click the link to know more about what is the difference between Average Cost and Last Cost.
Biztory API Integration (Connect with Third-Party system)
Now, Biztory cloud accounting system also has strong integration with Third-Party Apps. This system integration can help users of Biztory to connect Third-Party systems in order to provide them with an automated workflow.
Biztory also has exclusive cooperation with Hong Leong Bank to offload user's work from making payments. The user issues invoices to customers with the JomPAY biller code and gets paid easily. In addition, Biztory also cooperated with payment gateways such as iPAY88 and Molpay. For those users who are wishing to get paid faster can apply through Biztory to get better discounts.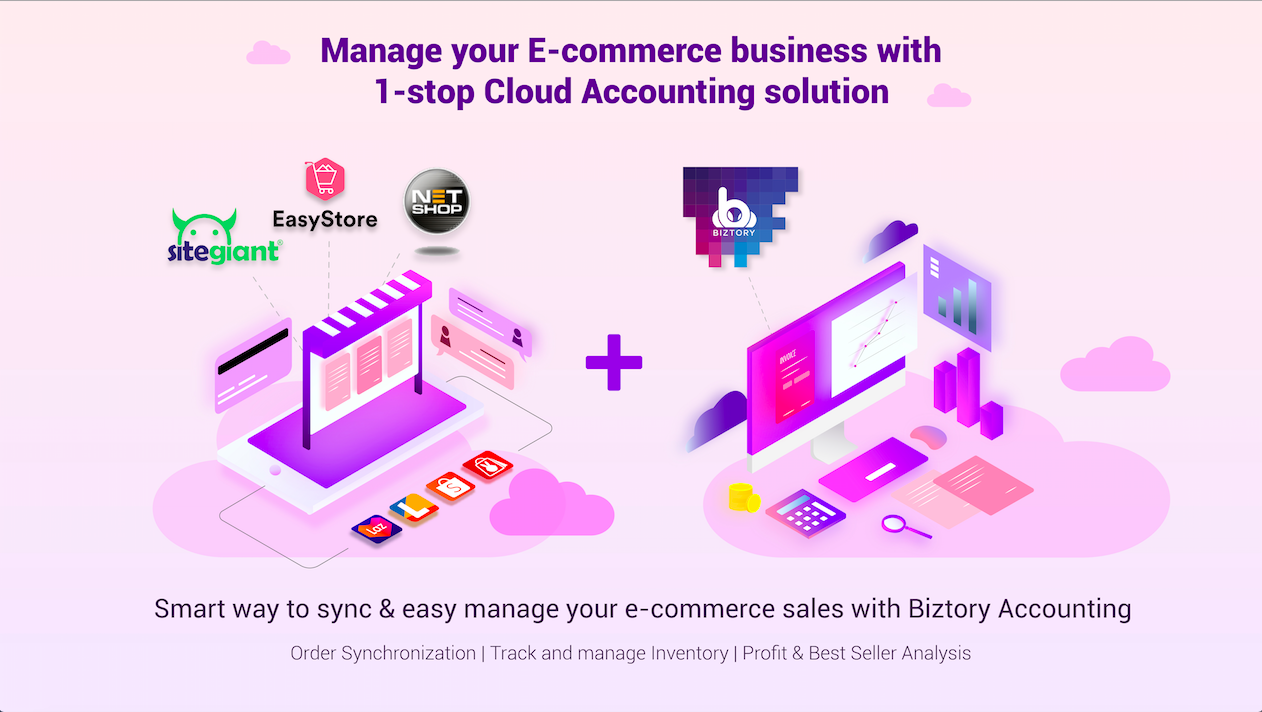 Next, Biztory also integrates with 2 e-commerce platforms which are EasyStore and SiteGiant to help users manage the online business and social commerce. Users can sync data from EasyStore and SiteGiant directly to Biztory. After that, Biztory will automatically create invoices and record the sales volume in Biztory.
Regarding BizPay, it is a fast checkout service and suitable for every online seller. Online sellers are able to place orders and collect payments in a faster and easier way by using Biz Pay. It is because BizPay will generate a link for the customer to click on it, make the order and also do payment immediately. Users just need to copy the link and paste on the comment bar to let customers to click on it. Therefore, BizPay can help users reduce and avoid the problem of unpleasant orders by customers, as well as make customers experience easy order placement and payment.
Moreover, other new features of Biztory in 2020 include enhancements and changes to the Biztory system. Example, for the sales invoice column, when users search for customer information, they not only can search by name but also phone number. Next, regarding the customer email column in the invoice system, users are allowed to fill in one more email address which is users can fill in the two email addresses of customers in the same customer email column and send invoices to both email addresses at the same time.
In addition, Carol also shared to all the subscribers about how to analyze reports helping users have better management in their business or accounting, such as teaching users to look at the sales report from a different angle to get the information that users want. After that, she also explained the sales summary, sales targets, customer statements, inventory reports, etc.
Moreover, Carol was also introduced about the referral program that was carried out by Biztory. If users want to recommend Biztory to family and friends, users can share their own links in Biztory accounts with their friends. When users' family and friends have registered a Biztory account by using their referral link and subscribe to the Biztory's plan, both of them will enjoy rewards by Biztory. Finally, if users have any questions about Biztory, Carol also encourages users through Biztory Solution to find the answers.
Although there were a few technical obstacles encountered, the live workshop ended perfectly. Behind every success is a great team, so thanks to two pretty speakers for their compact explanations for two hours. Next, feel grateful to all of the members behind the scenes for the contribution, and also the active participation of those subscribers. In addition, we have also received good feedback from a lot of users regarding this live workshop. Hoping us to organize more related live workshops to help them better understand in using Biztory Cloud Accounting Software in order to help them manage business more easily. And, we hear your voice and soon Biztory is planning to organize more online workshops in the future, stay tuned!
If you are interested in transforming your business digitally, Biztory's unique and comprehensive cloud accounting functions here is to help you. Sign up now and enjoy your 30-days trial for free!