Business Digitalization becomes mainstream! Join the majority so that you don't fall behind others!
August 31, a day where all Malaysians join the jubilation to celebrate and commemorate the Malayan Declaration of Independence.
On this significant day, we Malaysians are not only grateful to the leaders for their spirit of resistance on founding the nation where we live now. We are also grateful for all our country's efforts to fight the outbreak during the COVID-19 pandemic.
The arrival of another National Day indicates that we have once again gone through another difficult year together. Since March last year, the hard-fought battle between the Malaysian government, its people, and the COVID-19 virus seems to have no end in sight. Looking back at the period from 2020 to 2021, many businesses were forced to close down in desperation, and many people had to switch runways to adapt to the current new normal due to the transient changes in the environment.
Many SMEs are facing an unprecedented wave of closures as a result of the relentless spread of the COVID-19 epidemic and the movement control order. It is even worse for many citizens who are unable to operate the business normally, or cannot even maintain their livelihoods, and cannot afford to eat due to the movement control order. One of the reasons leading to the wave of closures is the lack of proper business planning.
Want to know which part goes wrong in your business planning??
❌ Financial management
Lack of proper cash flow management leads to unclear business cash flow and the inability to make appropriate business decisions.
Many business owners ignore the importance of cash flow and think that profit rate is more important. In fact, they did not know that the profit rate is a problem of survival and development, and cash flow is a matter of life and death!
As long as the cash flow is healthy, even if there is some profit loss, a company should not be a problem for the business to keep going. But if the cash flow is cut off, there is a danger of bankruptcy at any time.
❌ Old &Inflexible Mindset
The rigid mindset to change and adapt to the new environment missed the chance to turn the crisis into an opportunity.
In the face of COVID-19 and the movement control order, your business could disappear if you don't digitalize your business as soon as possible during this pandemic.
❌ Cost Control
If you're not managing your finances properly, you're probably not managing the costs of running your business properly either.
Cost control isn't about saving money mindlessly, it's about spending it well on where it should be spent. Have a good and clear understanding of business expenses and reduce unnecessary expenses to maintain adequate cash flow within your business.
Examine yourself to see if you make any of the above-mentioned mistakes after reading this. If you've made mistakes, it's okay. As there's an old saying, 'better late than never, it is never too late to learn your mistakes, correct those mistakes, and avoid making the same mistakes in the future.
The transient environment caused by the Covid-19 pandemic is driving the transformation of major companies. If you still plan to play safely at this very moment, it is very likely that your business may be the next to face closure. You have to think flexibly when dealing with a crisis, especially during this pandemic. Business digitalization is no longer a multiple-choice question for you to choose whether to adopt or not, it is now a MUST! The war against the Covid-19 virus is still going on and seems to have no end in sight. It is time for you to make a change!!
Although it may sound difficult to start digitalizing your business, you will soon realize the importance of adopting business digitalization after you weigh the pros and cons.
Let's take a look at how digital transformation can reduce the risk of your business:
1. Improve agility and adaptability
Prevents your organization from falling behind others and being hit by digital disruption.
Many businesses without an agile operation model failed to take quick response to the coronavirus pandemic and its effects on their business were forced to close down.
Improves business agility so that the organization can respond quickly to opportunities or threats, whether internal (e.g. failing business operations) or external (e.g. Covid-19 pandemic).
2. Reduce operational costs
Without having to outsource accounting agencies to look after your financial or tax-related affairs.
Reduce personnel costs right from recruitment to training, in-house promotions, HR management – the company can save significantly on its overheads on people.
Reduce margins of error as businesses incur exorbitant costs due to human errors up to 90%.
3. Data-driven insights
Digitalization allows you to collect more customer information than you ever thought possible such as trends, patterns, pricing insights, and buyer preferences.
Digitalization makes it easier to collect and analyze customer data and further results in making informed decisions.
Taps into new insights, allowing the company to make better business decisions.
Enhance your strategies by studying the online habits of your target audience to avoid spending the money to no avail.
4. Time-Effective & Increased Accuracy
Digitalization helps your organization eliminate errors at every operational stage and process.
The implementation of automated systems and cloud accounting software increase efficiency as there's a higher chance of reducing human error from tedious tasks like data entry, data collection, etc.
Manage your business, access to your business cash flow, invoice and financial report with just the use of your smartphone anywhere, anytime.
Boost overall accuracy and reduce rework.
In today's business world, all technologies are evolving rapidly as a result of the pandemic, allowing some companies to grow and change rapidly. More enterprises have realized that digital transformation is no longer a multiple-choice question. Companies with the traits of agility, adaptability, innovation stand out among the marketplace!
Want to make your organization more agile, adaptable, and innovative? You definitely need good cloud accounting software!!
Now, let's me share with you why your business needs cloud accounting software because an outstanding cloud accounting software is able to assist you:
✅ Manage your finances effectively
An Easy-to-Understand & Interactive Dashboard shows you a series of cash flows that you must track on your business. Such as the cash in hand, cash in bank, sales performance, expenses, tax estimates, etc. Make your business stand out in a crowd of competitors.
Get a clear picture of your current cash flow and bills to pay, as well as the number of overdue customers.
Give you a clear picture of your current financial situation. Looking at your cash flow allows you to make better business decisions and navigate the market.
Strengthen your cash flow management, manage funds transfer, and bank reconciliation.
Sending email alerts about overdue bills to overdue accounts and keeping track of all outstanding bills.
✅ Manage your business effortlessly
Easy to operate, easy to get started. Manage your business with any device at any time. Manage and monitor your business's financial status and overall performance with just a few clicks!
Simplify the process of inventory management. Update your inventory in real-time, and track inventory changes anytime, anywhere. Even when a product is out of stock, the system will give you timely reminders to help you maintain an optimal inventory level.
Aware of the company's financial and performance anytime and anywhere, giving you complete control over your business as long as there is access to the internet.
Prevent important data loss caused by human negligence, natural or man-made disasters by storing your business data such as expenses, sales receipts, customer information, and inventory status on the cloud.
✅ Time-effective & Increased Accuracy
Save tons of your time managing your business as you can check business cash flow, invoices, and financial reports anytime and anywhere.
Improve the accuracy of each operation phase and process, reduce the need for rework, improve efficiency and save time.
Automated systems and cloud-based accounting software help improve efficiency and reduce the possibility of human error in tedious manual data entry, data collection, and so on.
Our body needs a vaccine, and so does your business. Give your business a booster during this pandemic as well!
Success and failure often lie in a single thought. Take advantage of the pandemic to move away from old business models and digitalize your business so that your business will not be affected by movement control orders, maintaining profits during the pandemic.
"The biggest enemy of life is not others, but oneself."
The epidemic may not be your biggest enemy. The environment is changing, learning how to keep pace with the environment, and finding your way out to survive through tough times is your top priority. #KamiSamaSupportBiz
Something HUGE is coming!!
Biztory "Mega Merdeka Promotion" up to 31% OFF awaiting you!! 🎉🎊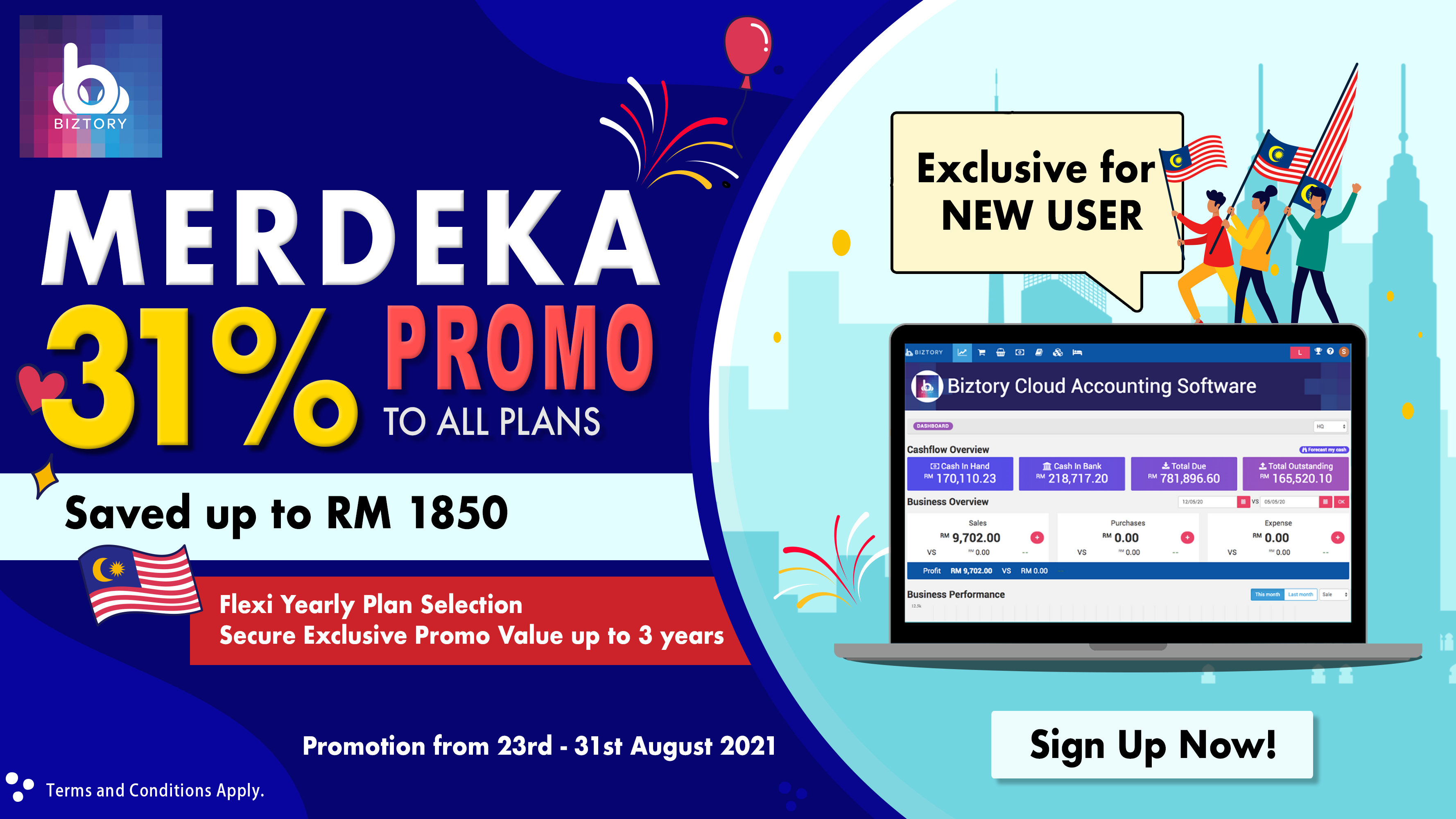 In celebration of the 64th National Day on 31st August 2021, Biztory will be offering all new users a special and exclusive discount of up to 31% OFF from August 23 to August 31!! 🥳
What's so SPECIAL special about Biztory Merdeka Special Promotion?
You get to choose your Biztory Yearly Plan based on your preferences (S, M / L Yearly Plan)
Decide on your subscription period (lock-in Biztory plan up to 3 Years with the worthiest price!! 🙌🏻)
This Mega Merdeka promotion also allows you to lock in a 3-year Biztory year plan at the worthiest price. You heard it right!! Register now and save up to RM1850, WHY NOT?!
Click on the button below to register for this superb MERDEKA DEAL!
Don't live in regret over missed opportunities. You will regret it if you miss such a golden opportunity! Secure your special offer now before it's too late! 😍
Still wondering about the promotion, check out the promotion price list below!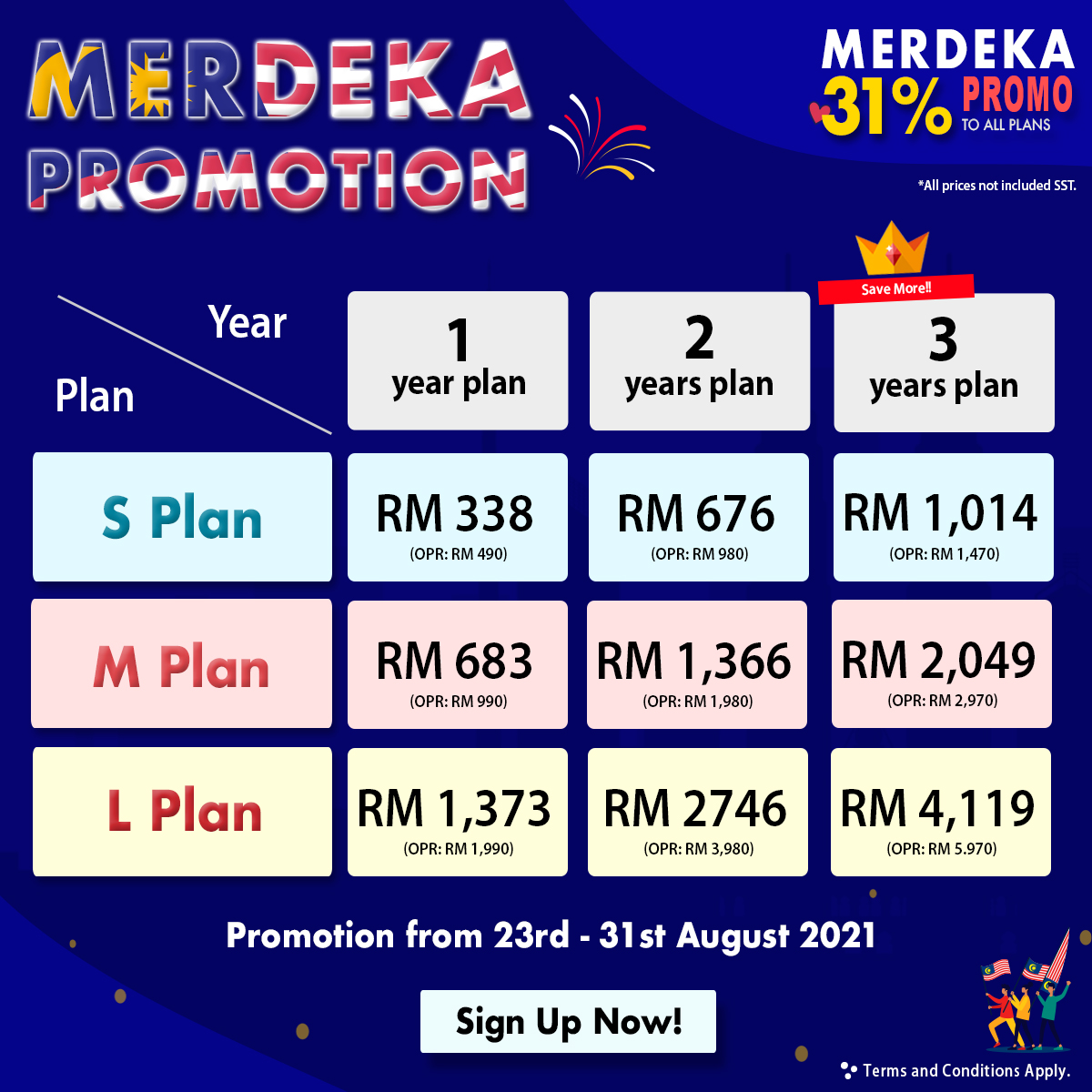 *Terms & Conditions Apply
*This offer is only valid for Biztory new users.